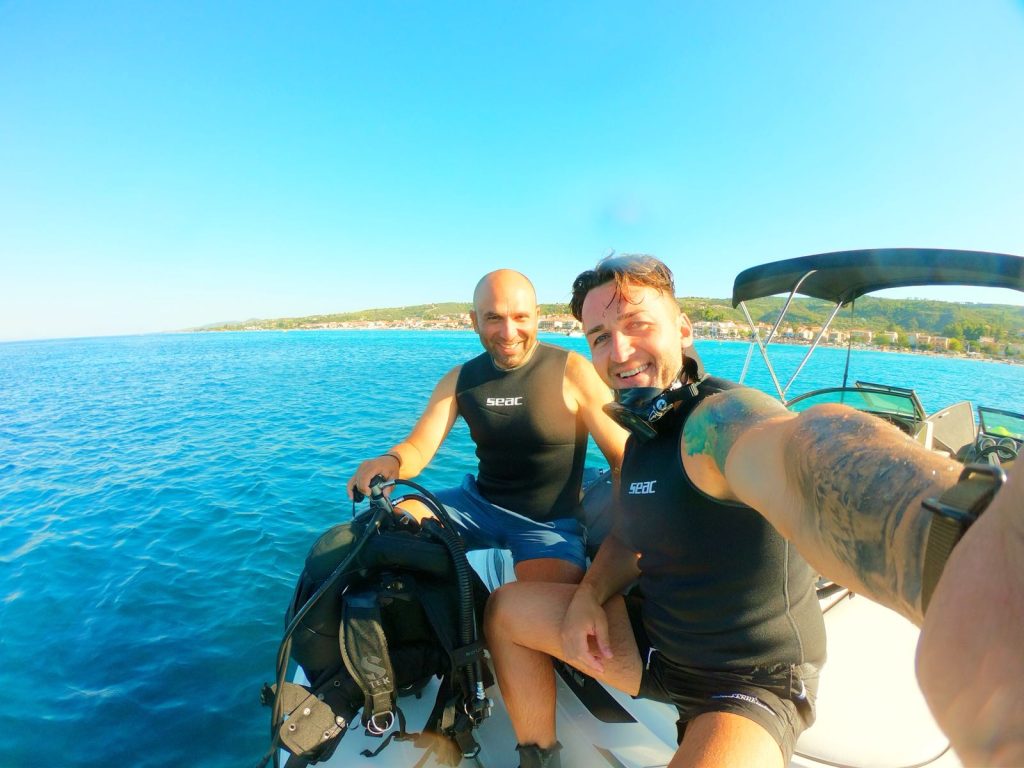 Three exciting dives
I'm happy to share my three fascinating dives with you, which I'll try to describe briefly.
One of my most breathtaking and profound dives took place in Greece in HALKIDIKI with my friend A. We took a boat to the peninsula and settled at an inconspicuous spot, surrounded only by the sound of the sea and what I consider true tranquility. We descended into the water, feeling as light as Yves Cousteau or Hans Haas (both pioneers in exploring the seas), possibly diving where no one had before. Goosebumps, fascination, speechlessness… No words could come close to explaining the emotions that arose. When we resurfaced, we embraced each other, laughing with sheer happiness, knowing we could now share our knowledge and experiences with others.
The second dive that had a profound impact on me, both personally and spiritually, was more challenging than anticipated and came with some complications. It was the dive, sought after by countless divers, all with the same goal: exploring the mystery. Yes, I'm talking about the Blue Hole "the Arch" in Dahab, Sinai Peninsula, Egypt. My buddy, instructor, and long-time friend M. and I experienced a whirlwind of emotions in mere seconds, ranging from happiness and joy to excitement and adrenaline rushes. It was an unpredictable challenge, with restrictions on our actions. Just as life often plays out. With the best of our knowledge, calm, and concentration, we managed the situation. It leaves a mark on you, but why? Not just because it was dangerous, no. It teaches respect and reverence for what nature has to offer. It reminds us that we don't truly control nature.
My third and one of my most emotionally charged dives also took place in Egypt, including Marsa Alam and Port Ghalib. I was fortunate to share this experience with my brothers A., N., M., K. They accompanied me on a shark expedition where we encountered numerous species, including the oceanic whitetip shark. Every sight, sound, and feeling of the ocean's creatures, each so unique, exceeded our expectations. But the emotional outburst came during an impromptu and unexpected deep dive (for recreational divers) to 40 meters. We looked around in the depth, realizing where we were and what a privilege it was to behold the beauty of nature and the sea with our own eyes. Emotions overwhelmed us, and in the deep blue sea, hundreds of meters below the surface, we gratefully and euphorically embraced.
In general, I have a heartfelt message that I want to convey to every diver and non-diver alike. Familiar yet paradise-like, hard to put into words, were all my dives on the fascinating island just below the equator called Fuvahmulah. Here, dreams literally come true. A distant childhood dream became a reality. I encountered the long-awaited large tiger sharks, enormous and stunning manta rays, exciting hammerhead sharks, and many more heartfelt desires. This is just a small, intimate glimpse into my world and love for nature and the boundless sea. I hope that by sharing this, I can inspire many people to step away from the TV and explore the real world. Explore nature, see it, hear it, feel it, and live it to the fullest. Nature will reward you with emotions that will accompany you for the rest of your life, without asking for anything in return.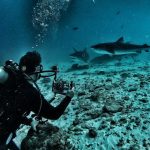 I'm Mili, and my fascination with the underwater world and oceans started in my early childhood. I share a profound love for the sea, especially its diverse marine life like sharks, with the site's founder. My dream to become a diver began at the age of 6, and at 15, I became an Open Water Diver. This journey led me to discover videography to document the mesmerizing world beneath the waves.